The new guide for practice "Against sexual harassment, violence and stalking" is available!
The 4th updated edition of the Guide for Practice has been published.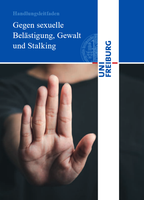 A revision was necessary, among other things, because contact persons have changed and the topics of digital violence and cyberbullying have been newly included.
Under the heading: "Contacts and Counseling Services
Outside the University" you will find, among other things, the contact details for Michaela Spandau, who was appointed on November 15, 2020 as an Legal Counsel of the Ministry of Science, Research, and the Arts
in Baden-Württemberg (MWK), and is available to all universities in BW as an independent contact person both for those affected and for contact persons.
Another new addition is the USG: Investigation Center for Victims of Violence at the Institute of Forensic Medicine, where externally visible injuries after physical violence can be documented in a court of law without prior criminal charges.
Further changes and information can be found here:
A Guide for Practice: Against Sexual Harassment, Violence, and Stalking
German Version: Handlungsleitfaden: Gegen sexuelle Belästigung, Gewalt und Stalking


We will be happy to send printed copies on request.