In company. Freiburg women* at a glance
Half of the total population are women*. In Freiburg, too. What happens when many Freiburg women come together in one room and enter into dialogue?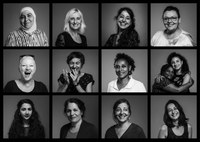 In Gesellschaft. Freiburger Frauen* im Blick // Foto: Britt Schilling
Over 100 portrait photos taken by Britt Schilling show self-confident individuals in a clash of cultures, social milieus, age groups and realities of life. The exhibition celebrates their similarities and differences and presents a reflection of modern urban society. Diversity, women's community and a strong women's culture emerge. How do women* shape society?
The portraits were created on the sidelines of the event series Only for Women*: Element 3 had set up a large living room in the Theater Freiburg, which became a lively gathering place through the visitors.


October 13, 2021 to December 5, 2021
Museum Natur und Mensch
Gerberau 32 | 79098 Freiburg
Current information on the accompanying program at: www.freiburg.de/in-gesellschaft

A project by Element 3 e. V. in cooperation with Museum Natur und Mensch.

Supported by: Baden-Württemberg Foundation, Cultural Office, Office for Migration and Integration and Office for Equal Rights of Women of the City of Freiburg.