Changes in the Decentralized Equal Opportunity Officers in the Faculties
Dr. Maria Hoernke has been elected as deputy equal opportunity representative of the Faculty of Chemistry and Pharmacy. She succeeds Prof. David Hillebrecht, who resigned from the position last fall.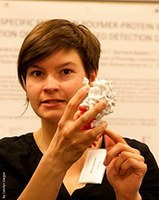 Dr. Maria Hoernke
Maria Hoernke studied chemistry at the Martin Luther University in Halle and the Universidad de Burgos in Spain and subsequently specialized in physical chemistry and biophysics. After scientific stations at the MPI of Colloids and Interfaces in Potsdam and the Göteborg Universitet in Sweden, she moved to the Chair of Pharmaceutical Technology and Biopharmacy at the Faculty of Chemistry and Pharmacy at the University of Freiburg.
Maria Hoernke won a Marie Curie IEF grant and is currently spokesperson of the section 'Membrane Biophysics' of the German Society for Biophysics e.V.
An important task of the decentralized equal opportunity officers and their deputies at the faculties is to represent the central equal opportunity officers in appointment procedures. In addition, the Equal Opportunity Officers at their faculties advocate for more equality and diversity and act as contact persons and multipliers for the topic of equal opportunities.