Changes at the Central Equal Opportunity Commissioner
Prof. Dr. Anelis Kaiser Trujillo elected as new deputy for the Equal Opportunities Officer Dr. Regina Herzog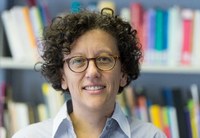 Prof. Dr. Anelis Kaiser Trujillo
Prof. Kaiser succeeds Dr. Julia Schwarz, who resigned from her position due to parental leave.

Prof. Dr. Anelis Kaiser Trujillo has held the professorship of Gender Studies in MINT at the Faculty of Technology since April 2017. Several years before, she had already taken over various substitute professorships, among others in 2012 at the University of Freiburg in the cognitive sciences. Most recently, she was a Fellow in the Department of Social Neuroscience and Social Psychology at the Psychological Institute of the University of Bern. In her research, the psycholo-gine primarily examines aspects of sex and gender in neuroscience.

Kaiser is co-founder of the international and transdisciplinary network NeuroGenderings.

The tasks of the deputies include, among other things, the representation of the Equal Opportunities Officer in important committee meetings. In addition, the deputies advocate for more equality and diversity in their respective departments and are contact persons and multipliers for the topic of equal opportunities.
Photo: Patrick Seeger