Application deadline for AdvanceMent Freiburg - 15.03.2021
the mentoring program for doctoral candidates and postdocs at the University of Freiburg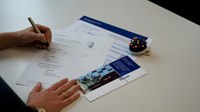 AdvanceMent Freiburg supports young scientists in their personal and professional development and career planning. The program creates opportunities for professional orientation and helps participants successfully navigate their next career steps through reflection, feedback, networking, mutual support and further qualification.
AdvanceMent Freiburg is made up of two program tracks, each with twelve available spaces:
-        @academia is aimed at scientists who wish to continue a career in academia.
-        @newpathways is aimed at scientists who plan to make a change to industry and society
The program is aimed at advanced doctoral candidates and early postdocs at the University of Freiburg.
For further information please consult our website:
https://www.frs.uni-freiburg.de/en/mentoring/program
The current application deadline for BOTH program tracks is the 15.03.2021.
Please note: The goal of AdvanceMent Freiburg is to accompany academic and non-academic career paths in Germany. Therefore, the main language of the programme is German. To participate successfully in the program, you must therefore have a good enough command of German to actively participate in the networking events and workshops. If in doubt, please contact the program director rebecca.bitenc@frs.uni-freiburg.de